Pittsburgh Breweries Virtual Happy Hour Series
June 11 – Pittsburgh Breweries – What's Next? – Recording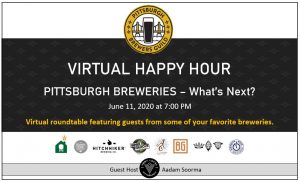 Hear how Pittsburgh's breweries are navigating through this unprecedented era. Be the first to learn about what new beers are on the horizon and get the skinny on projects in the works.
________________
Good things are still brewing!
As we move into the Green Phase in Allegheny County, we will continue to update the below list of PBG member breweries taproom, to-go, and delivery hours. Check individual brewery site for new taproom policies, reservation request, etc.
Taproom reopens June 5
Fri 2-9, Sat 12-9, Sun 12-9
Starting June 5 – taproom and pickup hours
Friday 5-9, Sat. 1-9, Sun. 1-5
Reservations via online store recommended due to limited seating
To-Go, limited taproom seating, outdoor beer garden
Wed-Fri 4-9, Sat 12-9, Sun 1-8
Online ordering
Pick up Thu-Fri 4-8 and Sat 12-6
Pre-orders start Wed.
Pick up Thurs-Sat 3-7
Online ordering
Delivery available
Warehouse open for dine in Wed-Sun 3-10
Pick up available at Warehouse location
Online ordering with pick up avail. Wed. and Thurs. 3-8
Starting June 5 – open for onsite food and bar
Email for reservations
Online orders available during open hours
Starting June 5 – taproom open
Wed. – Thu. 4-10, Fri. 3-11, Sat noon-11, Sun noon – 5pm
Online ordering for pick up
Taproom open
Wed.-Fri. 4-10, Sat 2-10, Sun 12-5
Online ordering
Pick up Wed-Fri 4-8 and Sat-Sun 12-4
Online ordering and pick up
Delivery available
Taproom and outdoor patio open
Tue-Fri 5-9, Sat 12-8, Sun 12-5
Online ordering and curbside Wed-Thur 11-7, Fri-Sat 1-9, Sun 1-7

Delivery available
Taproom open Fri-Sat 1-9, Sun 1-7
Online ordering
Daily pick up 12-8
Delivery available
Online ordering and curbside
Take out hours June 19 5:30-9:00 & June 20 1:00-4:00
Taproom and outdoor seating open Tue-Sun 11am-8pm
Online ordering with pick up both locations 

Taproom open both locations
Tues -Fri 4-11, Sat 12-11, Sun 12-8

Dine in and take out

Mon-Thur 11am-11pm, Fri-Sat 11am-12am, Sun 12pm-11pm
Online ordering with pick up
Taproom open
Mon 3-10, Tue closed, Wed-Fri 3-10, Sat 12-10, Sun 12-8
Delivery available
Online ordering for pick up/curbside
Wed-Fri 5-7, Sat 12-3, Sun 12-2
Online and for pick up/curbside
Delivery available
Taproom open for dine in
Wed-Fri 4-11, Sat 12-11, Sun 12-9
Delivery Available
Tue-Thur 4-9, Fri 4-10, Sat 12-10, Sun 12-6
To-Go available Tue-Sun 3-9
Rock Bottom Restaurant and Brewery
Online ordering available
Dining Room Open Sun-Thu noon-8pm, Fri-Sat noon-9pm
Online ordering
Brewery outdoor seating – Thurs-Fri 4-10, Sat 2-10, Sun 12-7
Pop-Up Beer Garden (1836 Oxline St. Pgh, PA 15233) Thurs-Fri 4-9, Sat. 2-9, Sun 12-7
Southern Tier Brewing Co, Pittsburgh
Online ordering
Mon-Thur 3-9, Fri-Sat 11am-11pm, Sun 12-8
Online ordering for to-go/curbside
Taproom open for dining and beers
Tue-Thur 3-9, Fri-Sat 12-10, Sun 10-8
Strange Roots Experimental Ales
Online ordering for pick-up/curbside
Gibsonia taproom hours – Thur-Fri 5-10, Sat 2-10, Sun 2-7
Millvale taproom hours – Thur-Fri 5-10, Sat 2-10, Sun 2-7
The Leaning Cask Brewing Company 
Online ordering with pick-up/curbside
Delivery available
Taproom open Wed-Fri 4-10, Sat 12-10, Sun 11-6
War Streets Brewery & Bier's Pub
Pub open Wed-Fri 11:30am-10pm, Sat 10:30am-11pm, Sun 10:30am-9pm